Fanfest Tshirts: 2 for the price of 1 this week!

That's right! This week's special 2-for-1 deal is on these beautiful 100% preshrunk cotton tshirts from this year's NWALegends.com Fanfest Weekend in Charlotte!

Free shipping within the continental United States, too!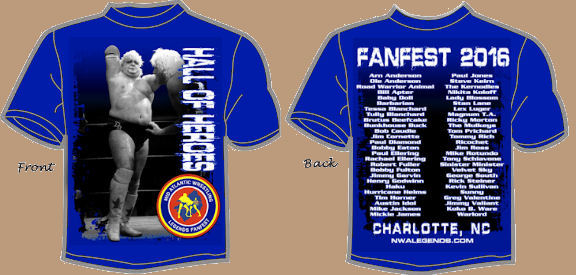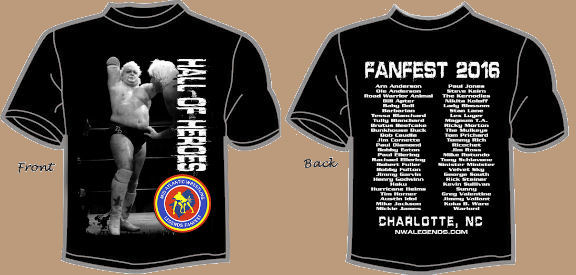 Fanfest Video-On-Demand Has Arrived!

Re-live all the great happenings of this year's NWALegends.com Fanfest Weekend! Thanks to Video-On-Demand, you're able to watch all the great events from our just-wrapped weekend:

All of the daytime Q&As from Charlotte -- Magnum T.A., Road Warrior Animal, Jimmy Garvin, Austin Idol, Mickie James and Lady Blossom -- opening night's RINGSIDE with Jim Ross, One on One with Tony Schiavone, and The Jim Cornette Experience, Friday night's Hall of Heroes induction ceremony, Saturday night's wrestling matches and, of course, the Roast of Ole Anderson are available to watch anytime you want, as much as you want, on any device you want via NWALegends.com Video-On-Demand!

Click here to watch...



Thank You! Hope To See You Next Summer!

Can't thank everyone enough for being part of our NWALegends.com Fanfest Weekend. Hope you'll make plans now to be with us next summer for our 2017 reunion. VIP "All Access" Passes, Hall of Heroes and Breakfast Roast tickets are on sale now!

Click here to get your 2017 tickets...



Looking For Photo Op Images?

If you had photo ops at our most recent fanfest weekend, we'll email you the digital images one time for free!

The process is very simple. Email Photos@NWALegends.com a scan of one of your photo op prints, along with a list of the photo ops you participated in.

Allow 3-4 weeks to receive the digital images via email.

Photo op images from previous year's fanfests are also available for a nominal charge.